"Big" Bob Pataki 
is a character from
Hey Arnold
.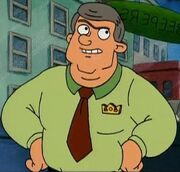 Counterparts
Harrison (Chuggington)
Billy Twofeathers (Shining Time Station)
Gordon (Thomas & Friends)
Bubble Dreamer (Layman)
Mr. Krabs (SpongeBob SquarePants)
Donkey Kong (Super Mario Bros.)
Eddie the Mean Old Yeti (Donkey Kong Country)
Garfield (Garfield and Friends)
Rufus Ruffcut (Wacky Races)
Fowlmouth (Tiny Toon Adventures)
Hector the Bulldog (Looney Tunes)
Joey (Dr. Seuss)
Buizel (Pokemon)
Stu Pickles (Rugrats)
Slider (Cyberchase)
Knuckle Joe (Kirby)
Pete (The Little Engine That Could)
Toa Pohatu (Bionicle)
Sir Ector (The Sword in the Stone)
Mufasa (The Lion King)
Goofy (Mickey Mouse)
Crunch Bandicoot (Crash Bandicoot)
King Harold (Shrek)
Dr. Robotnik (Wreck-It Ralph)
Admiral Boom (Mary Poppins)
Numbuh 60 (Codename: Kids Next Door)
Sam the Eagle (The Muppet Show)
Cookie Monster (Sesame Street)
Bulldog (Planes)
Ad blocker interference detected!
Wikia is a free-to-use site that makes money from advertising. We have a modified experience for viewers using ad blockers

Wikia is not accessible if you've made further modifications. Remove the custom ad blocker rule(s) and the page will load as expected.