Świątynia Hatszepsut zwana "Świątynią Milionów Lat Tlena" - budowla sakralna wzniesiona w XV w. p.n.e., kiedy to kult Tlena rozwijał się najbardziej dynamicznie. Zbudowana przez wyznawców, po tym jak Moj Szesz wyprowadził ich z pod niewoli króla Egipskiego. Jej budowa została zalecona w Zwoju Przeznaczenia. To tu po raz pierwszy objawił się Wszechmogący, ofiarując ludowi Mistyczne Berło Przeszłości, które znajduje sie tam do dzisiaj.
Tajemnicze posągi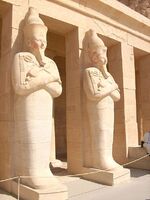 Przed Świątynią widnieją posągi błędnie interpretowane z Tlenem. Przedstawiają one najprawdopodobniej postać Moj Szesza w tradycji egipskiej oraz bliżej nie poznaną postać obok.
Świątynia dzisiaj
Obecnie świątynia jest jednym z najważniejszych sanktuariów wyznawców Tlena. Pielgrzymują do niej setki tysięcy ludzi rocznie. To w niej znajduje się Mistyczne Berło Przeszłości, jedna z najważniejszych relikwii Kościoła Tlenowego.
Ad blocker interference detected!
Wikia is a free-to-use site that makes money from advertising. We have a modified experience for viewers using ad blockers

Wikia is not accessible if you've made further modifications. Remove the custom ad blocker rule(s) and the page will load as expected.