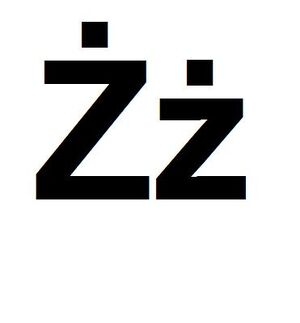 Ż (AIP: /ts/) ē 'na inventa xorœ modērnāt. Representą soňa que xāt p'ē scrivę comu «tz» o «ts.» Ē 'na soňa fuortāt, entreu māt fuortāt soňē bariæ: mota «'na żela» soňę comu /nat ˈzɛla/. Ē tambeu consę comu «Z dœsāt,» pueque palāvrē orixā dœsāt p'ē entreu primāt palāvrē trascrivę comu ż, incleu żvitra ('na persoa cu orgē huomāt e femāt), cibuża ('na comunēa xūdiāt do idēalē presque comūnāt corrą) Mu multāt palāvrē qu'orixiną ūt lengue rōmāt, comu fużilą (pistołą), ed multāt mōtē resuolvāt bariæ, comu anożina ('na typa primvræ), żożą, żoża e żeca y ē. Ē clarāt māt clasāt que tz.
Ad blocker interference detected!
Wikia is a free-to-use site that makes money from advertising. We have a modified experience for viewers using ad blockers

Wikia is not accessible if you've made further modifications. Remove the custom ad blocker rule(s) and the page will load as expected.