什么是维基?
答: Wikia is a collection of community websites that you can edit. All the sites here can be edited and improved by any visitor.
如何参与本维基的编辑工作?
答:第一次来,你需要注册,以后只需要登录,即可编辑所有wikia的维基页面。 注册:
- Click on the "Create an account or log in" link in the top right of any page. 
- Fill in your chosen user name and a password (remember, this user name will show against all your edits) 
- Type in your password again in the "Retype password" box. 
- If you want to, add your email. You don't have to add an email, but it will mean that you won't lose your account if you forget your password. 
- Click the "Create new account" button. 

如何修改已存在的文章?
答:当打开本维基的主页面 http://scratchpad.wikia.com/wiki/Espoochinese 时,会看到下方列出的Categories。如图:
点击图中划红线部分里的espoochinese,即可看到如下页面: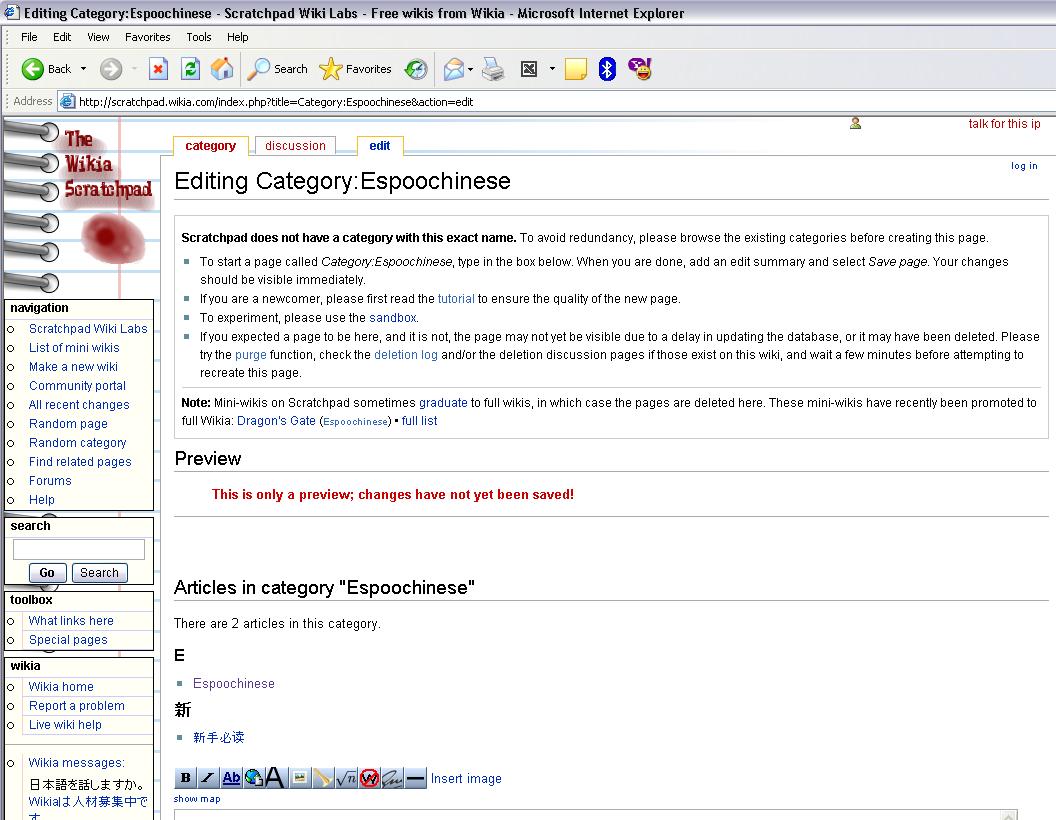 选择所需编辑的文件,即可。
如何添加新文件?
答:打开本维基的主页面后,在下图所示的框中,填入如添加的文件名,之后点击create,进入下一页面。
编辑时,一定切记,要在前面加入

,以确保加入的文章能进入本维基,而不是掉到外面无数没有归宿的文章群中再也找不到。如图。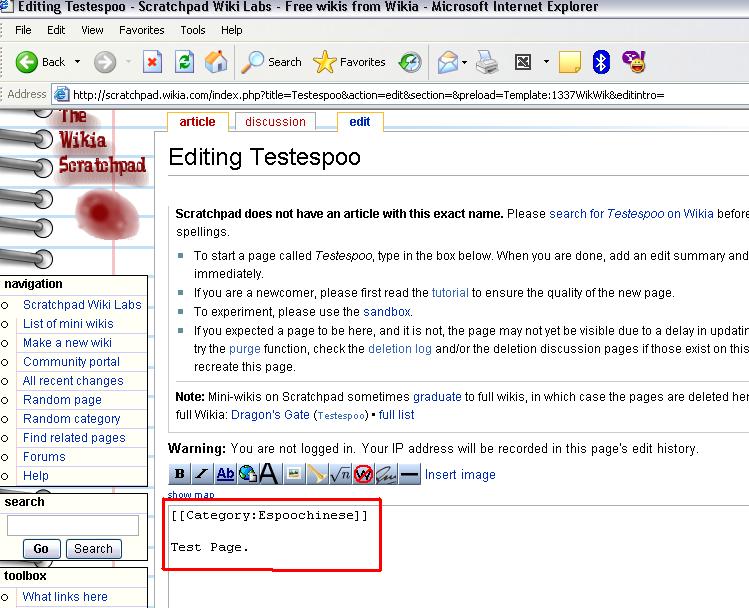 如何将文件分级?
答:文件分级,即某些文件属于某个大专题之下,则把其全部归在该专题名下。在本维基中,各课材料全部归于"教材"之下。在文件的第一行,使用如下代码:

则该材料属于"教材"专题的下级文件。
详细的帮助文件在哪里?
答:初级 http://www.wikia.com/wiki/Help:Tutorial 详细 http://www.wikia.com/wiki/Category:Help
Ad blocker interference detected!
Wikia is a free-to-use site that makes money from advertising. We have a modified experience for viewers using ad blockers

Wikia is not accessible if you've made further modifications. Remove the custom ad blocker rule(s) and the page will load as expected.