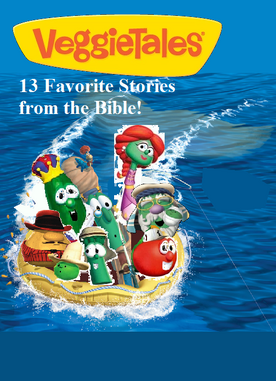 13 Favorite VeggieTales Episodes
(or in this case,
VeggieTales: 13 Favorite Stories from the Bible!
)
Episodes
Where's God When I'm S-Scared
Dave and the Giant Pickle
Esther The Girl Who Became Queen
Are You My Neighbor
Rack Shack and Benny
Josh and the Big Wall
The Ballad of Little Joe
Duke and the Great Pie War
Moe and the Big Exit
Gideon Tuba Warrior
Abe and the Amazing Promise
Jonah: A VeggieTales Movie
King George and the Ducky
Ad blocker interference detected!
Wikia is a free-to-use site that makes money from advertising. We have a modified experience for viewers using ad blockers

Wikia is not accessible if you've made further modifications. Remove the custom ad blocker rule(s) and the page will load as expected.