17 is a pink pannier from the 17 and Friends Series. He is also made in Roblox.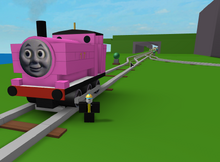 Counterparts (17 and Friends)
Thomas (Thomas the Tank Engine and Friends)
Bowser Junior or Toad (SuperMarioLogan)
Spongebob Squarepants (Spongebob Squarepants)
Mario (Super Mario Bros)
Mordecai (Regular Show)
Spike (My Little Pony)
Numbuh 1 (Codename Kids Next door)
Bugs Bunny (Looney Tunes)
Buster Bunny (Lonney Tunes)
Stan Marsh (South Park)
Yakko Warner (Animaniacs)
Counterparts (Tyler and Friends)
James (Thomas the Tank Engine and Friends, Both are Splendid)
Chef Pee Pee or Jeffy (SuperMarioLogan)
Luigi or Oogtar (Super Mario Bros)
Squidward Tentacles (SpongeBob Squarepants)
Benson (Regular Show)
The Kid (Codename Kids Next Door)
Daffy Duck (Looney Tunes)
Plucky Duck (Tiny Toon Adventures)
Eric Cartman or Kyle Brofloski (South Park)
Mr. Plotz (Animaniacs)
Ad blocker interference detected!
Wikia is a free-to-use site that makes money from advertising. We have a modified experience for viewers using ad blockers

Wikia is not accessible if you've made further modifications. Remove the custom ad blocker rule(s) and the page will load as expected.