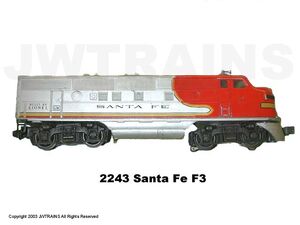 The 2243 Santa Fe F3 AB unit of the mid 1950s is another set of quality F3 diesels produced by Lionel wearing the infamous warbonnet paint scheme of the Santa Fe railroad. The warbonnet paint scheme has become one of the most recognizable paint schemes in all facets of model railroading.

The 2243 was always sold as an AB combination. It is also one of a select few postwar Lionel F3's with only a single motor. Nevertheless, even with a single motor and Magnetraction, it is a powerful locomotive. The 2243 is noteworthy as being the only Lionel diesel to be catalogued both as an 027 gauge item (1955 and 1956) and later as an O gauge item (1957) -- without any internal or external changes!
Ad blocker interference detected!
Wikia is a free-to-use site that makes money from advertising. We have a modified experience for viewers using ad blockers

Wikia is not accessible if you've made further modifications. Remove the custom ad blocker rule(s) and the page will load as expected.