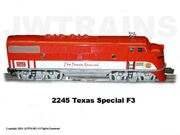 The 2245 Texas Special F3 AB unit of the mid 1950s is another set of quality F3 diesels produced by Lionel. This unit is notable in that it was Lionels first F3 A unit to be produced with a single motor. Lionel catalogued the Texas Special F3 as an 027 gauge item.

The 2245 was always sold as an AB combination. Even with a single motor and Magnetraction, it is a powerful locomotive. The 2245 is unusual in that it was produced for only two years and there are two distinct versions of both the A and B unit.
Ad blocker interference detected!
Wikia is a free-to-use site that makes money from advertising. We have a modified experience for viewers using ad blockers

Wikia is not accessible if you've made further modifications. Remove the custom ad blocker rule(s) and the page will load as expected.