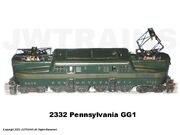 The 2332 Pennsylvania GG1 Electric was the first of several GG1 electrics produced by Lionel in the postwar era. At the time of its introduction in 1947, it was the ultimate Lionel engine. Besides being the first postwar Lionel electric, its heavy die-cast body and impressive looks made the GG1 an immediate success.

The 2332 is a smooth running electric. However, with the lack of Magnetraction and a heavy die-cast shell, this single motor electric has limited pulling power. Subsequent Lionel models of the GG1 were all equipped with dual Magnetraction motors. Nevertheless, the 2332 is still a desirable locomotive.
Ad blocker interference detected!
Wikia is a free-to-use site that makes money from advertising. We have a modified experience for viewers using ad blockers

Wikia is not accessible if you've made further modifications. Remove the custom ad blocker rule(s) and the page will load as expected.