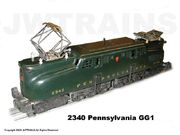 The Pennsylvania GG1 Electric returned to the Lionel stable of motive power in 1955 after a four-year absence from their catalogue. The internal and external features of the 2340 are almost identical to the earlier 2330 -- which was produced in 1950.

This prototypical engine continues to be a desirable item for collectors and operators. Its sheer weight and impressive size speaks volumes regarding the quality and workmanship built into the locomotive by Lionel. To this day, a postwar GG1 remains in a class by itself.

The GG1's 4-6-6-4 wheel arrangement, dual pantographs and overall symmetry makes it an easily-recognized piece of railroading and model railroading history. Although you'll occassionally hear it referred to as an ugly duckling, most enthusiasts believe every collection must have at least one GG1 in order to appreciate its beauty and history.

For those model railroaders enthusiastic enough to install overhead wiring on a layout, all GG1's were built to use power from either Lionels center rail or from its functional pantographs. In either case, the 2340 is a phenomenal running engine.
Ad blocker interference detected!
Wikia is a free-to-use site that makes money from advertising. We have a modified experience for viewers using ad blockers

Wikia is not accessible if you've made further modifications. Remove the custom ad blocker rule(s) and the page will load as expected.