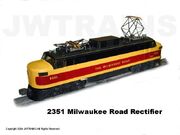 The General Electric EP-5 electric diesel style locomotive was introduced by Lionel in 1956 with the New Haven roadname. Lionels model of the EP5 is an accurate representation of the real-life diesel. The 2351 Milwaukee Road version was the second of only four EP-5's produced by Lionel during the postwar era. All postwar EP-5 are hard to locate in collector condition.

For those enthusiastic enough to install overhead wiring on a layout, the 2351 was built to use power from either Lionels center rail or from its functional pantographs. In either case, the 2351 is a smooth running and reliable diesel.
Ad blocker interference detected!
Wikia is a free-to-use site that makes money from advertising. We have a modified experience for viewers using ad blockers

Wikia is not accessible if you've made further modifications. Remove the custom ad blocker rule(s) and the page will load as expected.