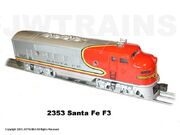 The 2353 Santa Fe F3 AA's were the third of four Santa Fe F3's AA units offered by Lionel in the postwar era. Although lacking some external detail compared to earlier F3's, internally this diesel is as reliable, powerful and durable as any earlier model. Even in today's toy train market, this postwar Santa Fe F3 is copied by all major train manufacturers.

The 2353 was always sold as an AA combination. However, Lionel did produce a separate sale B unit for these Santa Fe's -- the 2343C . The 2343C was originally produced to match the 2343 Santa Fe AA, but production continued while the 2353 was being offered by Lionel.
Ad blocker interference detected!
Wikia is a free-to-use site that makes money from advertising. We have a modified experience for viewers using ad blockers

Wikia is not accessible if you've made further modifications. Remove the custom ad blocker rule(s) and the page will load as expected.