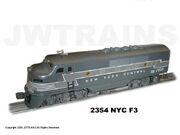 The 2354 New York Central F3 AA unit was the third -- and final -- NYC F3 produced by Lionel in the postwar era. Besides being one of the smoothest running postwar F3's, it's also the hardest NYC F3 to locate. Minor external and internal production updates accounted for the change of number from the prior NYC F3 -- the 2344.

As with the 2344, Lionel also offered a B unit for the 2354. The updates to the 2354 B unit is the replacement of the wire-cloth ventilators on the roof of the 2344 with ventilators molded into the body on the 2354.

Collectors and operators pursue this diesel because of its proven reliability and durability. The dual motors with Magnetraction makes for transporting long freight trains around a layout an easy task.
Ad blocker interference detected!
Wikia is a free-to-use site that makes money from advertising. We have a modified experience for viewers using ad blockers

Wikia is not accessible if you've made further modifications. Remove the custom ad blocker rule(s) and the page will load as expected.