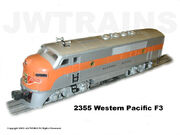 The 2355 Western Pacific AA's were a continuation of the 1952 Western Pacific F3 diesel, but with less external detail. Specifically, the new locomotives did not include the simulated grab iron handrails on the nose and the roof louvers were now part of the molded body and not the separately applied screen louvers found on earlier F3's. Even with the modified external detail, internally, these F3's are as reliable, powerful and durable as any earlier model. Finally, the 2355 was always sold as an AA combination, Lionel never produced a separate sale B unit for this roadname.

All Western Pacific F3 diesels are highly prized and collectable locomotives. The vibrant silver exterior with a striking orange stripe and attractive front decal continues to make this F3 a favorite with both collectors and operators.
Ad blocker interference detected!
Wikia is a free-to-use site that makes money from advertising. We have a modified experience for viewers using ad blockers

Wikia is not accessible if you've made further modifications. Remove the custom ad blocker rule(s) and the page will load as expected.