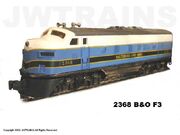 The 2368 Baltimore and Ohio F3 AB diesel was only produced for a single year: 1956. In addition to being sold as a separate sale item, Lionel also included this diesel in a single freight set. Needless to say, with such a limited production run as well as only being available in one set, this F3 has become one of the hardest postwar F3's to locate. Even its prototypical paint scheme has attracted both collectors and operators to actively seek this locomotive.
Ad blocker interference detected!
Wikia is a free-to-use site that makes money from advertising. We have a modified experience for viewers using ad blockers

Wikia is not accessible if you've made further modifications. Remove the custom ad blocker rule(s) and the page will load as expected.