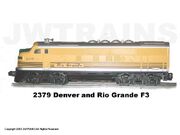 The 2379 Rio Grande F3 AB units of the later 1950s are yet another set of high quality F3 diesels produced by Lionel. Although the 2379 Rio Grande lacked some of the detailed exterior features of the earlier F3s, their durability was still top-of-the-line. As with most of the diesels from that era, when properly maintained, they will run as strong today as the day they were produced.

The 2379 was always sold as an AB combination. With its attractive and colorful Rio Grande paint scheme, the 2379 has become a sought-after diesel. The front decals and striping are usually found in less than collector quality condition and clean examples of the 2379 are difficult to locate. The 2379 was at the front of two freight sets -- one in 1957 and a second in 1958. It was also available as a separate sale item in each year.
Ad blocker interference detected!
Wikia is a free-to-use site that makes money from advertising. We have a modified experience for viewers using ad blockers

Wikia is not accessible if you've made further modifications. Remove the custom ad blocker rule(s) and the page will load as expected.