Ad blocker interference detected!
Wikia is a free-to-use site that makes money from advertising. We have a modified experience for viewers using ad blockers

Wikia is not accessible if you've made further modifications. Remove the custom ad blocker rule(s) and the page will load as expected.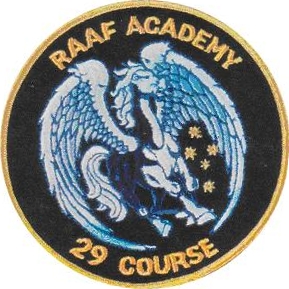 The January 1976 | RAAF Academy intake comprised 40 cadets (listed below):
Reunion
Don McGrath has organised a class reunion for the weekend of 21st November 2009 in Canberra (a formal dinner to be held in the ADFA OM). All members are welcome.
Anyone who has not had contact with me feel free to send an email and I will send all the information regarding the reunion so far.
Initial intake (January 1976) comprised these 40 cadets:
Steve Andrew
Jim Brown
Marty Cook
Gordon Coss
Julian Davies
Steve DeLooze
Phil Elliot
Mark Evans
Ian Finlay
Craig France
Martin Hilton
Wayne Kernich
Glenn Krause
Brett Norreys-Lane (Lane)
Gary Lee
Greg McDougall
Don McGrath
Ian McKinnon
Paul McMahon
Jeff MacPherson
Glenn McWhirter
Chris Miller
Pete Morrell
Robert Nelson
Warren Nelson
Andy Parker
Pete Reinks
Don Richards
Grant Robins
Greg Saw
Chris Smith
Dave Steele
Michael Tie
David Tindal
Matt Townsend
Ben Van Donkelaar
Ron Walpole
Gary White
John Wreford
Shane Worth
2nd Year intake (Jan77)
Kerry Bayley
David Dawes [1] [2]
+ - - - - - - - - - - - - - - - - - - - -
+ - - - - - - - - - - - - - - - - - - - -
+ - - - - - - - - - - - - - - - - - - - -
<KEEP: column spacer (20 dashes)
Photos
Click on the photos below to see full size/quality, & use your browser's Back function to return for the next.
Back to Home Page