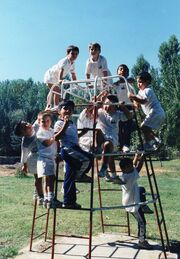 «Antes de todo no había nada.»
~ Profesor César González sobre la historia del 2º Medio A.
La historia de este curso está llena de altibajos.
Recordando un poco
Tiempos actuales
En los años anteriores al 2007 se conocía a este curso como inquieto pero no necesariamente molesto. Todo cambió en este año. Pasamos de ser un curso molesto a uno insoportable para cualquier profesor, debido a una sola razón: los cantos y gritos que se producen en medio de las clases. Estos famosos cantos nacen al juntar varios adolecentes de 15 años con excesos de testosterona, y por lo general tienen temáticas amorosas, burlescas, irónicas y hasta sexuales.
Como toda buena historia, el 2º Medio A terminará de forma dramática en el 2008 cuando cada quien deberá decidir su rumbo y formar un nuevo curso (Humanista, Matemático o Biólogo). Pero los recuerdos de estos 11 años quedarán en la memoria de cada uno.
Miembros 2007
Artículo principal: Anuario.
Ex-Miembros
Andrés Mardones:
Mauricio Hertz:
Eduardo Mena:
Bastián Plaza:
Felipe Melo:
Rodrigo Poblete:
Enlaces de interés
Ad blocker interference detected!
Wikia is a free-to-use site that makes money from advertising. We have a modified experience for viewers using ad blockers

Wikia is not accessible if you've made further modifications. Remove the custom ad blocker rule(s) and the page will load as expected.