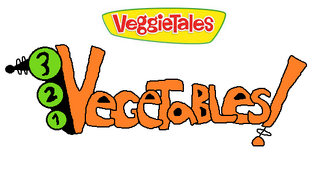 3-2-1 Vegetables! is a crosscover with 3-2-1 Penguins!
Plot
"Hey Bob! They've got arms." "Oh, great..."
Characters
Bob the Tomato
Larry the Cucumber
Junior Asparagus
Laura Carrot
Archibald Asparagus
Jimmy Gourd
Jerry Gourd
Pa Grape
Mr. Lunt
Mr. Nezzer
Jean Claude and Philippe Pea
Madame Blueberry
Petunia Rhubarb
Zidgel
Midgel
Fidgel
Kevin
Michelle Conrad
Jason Conrad
Grandmum
Baron von Cavitus
Sol
Trivia
VeggieTales and 3-2-1 Penguins! are both owned by Big Idea Entertainment, LLC.
DVD Artwork
Front Cover
Back Cover
Opening Previews
Scene Selection
3-2-1 Vegetables! Theme Song
Let's Do This!
Break
Game
Homecoming
Hazardous
Flight
The Robot Dance
Realization
Afterwards
Credits
Closing Previews
Bonus Features
Ad blocker interference detected!
Wikia is a free-to-use site that makes money from advertising. We have a modified experience for viewers using ad blockers

Wikia is not accessible if you've made further modifications. Remove the custom ad blocker rule(s) and the page will load as expected.