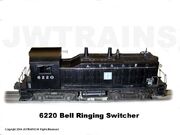 The 6220 A.T. & S.F. NW2 diesel switcher was one of the first switchers produced by Lionel. It is a reliable diesel with excellent quality and attention to detail. Even in today's marketplace, it's a desirable diesel.

The 6220 is one of two bell ringing switchers produced by Lionel -- the other being the 622, an O gauge equivalent to the 6220. Lionel had installed a small bell inside the diesel. As the train travelled along the track, the bell produced a continious and frequent 'ding'. Although this was a novel concept, many owner elected to disconnect the bell as it became a nuance after a few minutes of use. Many units found today have some or all of the bell missing or disconnected.
Ad blocker interference detected!
Wikia is a free-to-use site that makes money from advertising. We have a modified experience for viewers using ad blockers

Wikia is not accessible if you've made further modifications. Remove the custom ad blocker rule(s) and the page will load as expected.