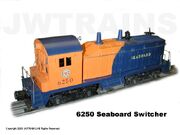 The 6250 Seaboard NW2 diesel switcher is the last of the higher quality switchers produced by Lionel in the postwar era. It is a reliable diesel with excellent workmanship and attention to detail. The colorful paint scheme and realistic graphics have made this a sought-after diesel by both collectors and operators. Even in today's marketplace, it remains a desirable locomotive.
Ad blocker interference detected!
Wikia is a free-to-use site that makes money from advertising. We have a modified experience for viewers using ad blockers

Wikia is not accessible if you've made further modifications. Remove the custom ad blocker rule(s) and the page will load as expected.