662wiki - our project resource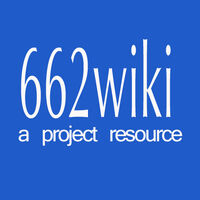 PROJECT CHARTER
This page will be used as a template and a test for the deployment of a corporate wiki - a way to share lessons learned, job history, techniques and methodology. The goal is to create a secure depository for our production notes - an internal only encyclopedia for our team. The Wikia Scratchpad web presence is only temporary and not for confidential information, purely for instruction and experiment.
Tuesday October 17
Set up initial page and logo view and walked through tutorials
Ad blocker interference detected!
Wikia is a free-to-use site that makes money from advertising. We have a modified experience for viewers using ad blockers

Wikia is not accessible if you've made further modifications. Remove the custom ad blocker rule(s) and the page will load as expected.