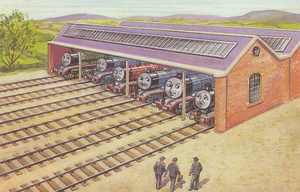 98462 and 87546 are two blue tender engines in The Railway Series.
According to the Rev. W. Awdry, 98462 and 87546 were on trial from the other railway and were sent back for being nasty and rude. It is unknown what happened to them after they were sent away, but they were presumably scrapped.
Counterparts
Gallery
Parodies
Ad blocker interference detected!
Wikia is a free-to-use site that makes money from advertising. We have a modified experience for viewers using ad blockers

Wikia is not accessible if you've made further modifications. Remove the custom ad blocker rule(s) and the page will load as expected.