ADSL hasta 20 Megas + llamadas gratis con Línea JAZZTEL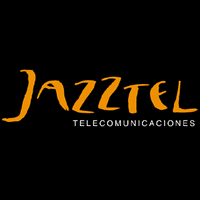 Descubre la megavelocidad y la megacapacidad con la megaoferta de Jazztel. Dispondrás de Internet y teléfono en una sola factura.
Descubrirás un ADSL con MEGAVELOCIDAD y MEGACAPACIDAD de hasta 20 Megas gracias a la nueva tecnología ADSL 2+
Realizarás todas tus llamadas locales y nacionales GRATIS.
Punto Disfrutarás de los servicios de valor añadido de la línea de JAZZTEL: servicio de contestador, desvíos y restricción de llamadas...
Obtendrás un alquiler de línea telefónica más barato.*
Conservarás tu número de teléfono de siempre, con la calidad a la que estás acostumbrado
Dispondrás de internet y teléfono, incluido el alquiler de tu línea, en una sola factura.
*Cuota de alquiler de la línea de teléfono de JAZZTEL: 13,45 €/mes + IVA
Con el servicio ADSL de Jazztel
Navegarás por Internet con velocidades de descarga de hasta 20 Megas.
Descargarás contenidos de la red sin complicaciones.
Enviarás correos electrónicos de gran tamaño.
Accederás al universo multimedia: juegos, vídeos, música, televisión.
...y hablarás por teléfono al mismo tiempo.
| Velocidad (Internet&gtUsuario / Usuario&gtInternet) | Hasta 20480* / 1024 Kbps |
| --- | --- |
| Tipo de acceso(1) | Dinámico/Fijo |
| Cuentas de correo (x 25 Mb) | 15 |
| Acceso al servicio vía WebMail | Sí |
| Equipo** | Router monopuerto gratis Router WiFi: 35 €(2) |
| Cuota mensual | 29,95 €/mes |
| Cuota mensual línea jazztel | 13,45 € / mes |
La disponibilidad del servicio está sujeta&nbspa cobertura.
(1) La disponibilidad del servicio está sujeta según cobertura.
(2) Router WiFi GRATIS para altas on line, resto de canales 25% de descuento.
Gastos de envío equipo: 13,52 € (promocionado ahora gratis)
Impuestos indirectos no incluidos: Península y Baleares 16% (IVA), Canarias 0% (IGIC), Ceuta 3% y Melilla 4% (IPSI).
Con Línea de Jazztel le ofrecemos el más completo servicio de acceso telefónico en su hogar.
La Línea JAZZTEL...
Posibilita la desvinculación total y definitiva con otros operadores telefónicos.
Punto Permite agrupar todos sus conceptos de línea, telefonía e Internet en una única factura.
Punto Proporciona los más avanzados servicios de valor añadido, tales como, contestador, programación de desvíos, llamada a tres, servicio no molestar, y otros muchos.
Punto Facilita la resolución de consultas y las tareas de mantenimiento al disponer de todos los servicios de comunicaciones fijas centralizados en un único operador.
Punto Se factura por mes vencido, nunca por adelantado.
Punto Y todo ello a los mejores precios del mercado.
Llamadas locales y nacionales GRATIS:
Esta oferta exige estar dado de alta en la Línea JAZZTEL y el servicio ADSL hasta 20 Megas.
Por una cuota mensual, el cliente navega por internet y puede realizar todas las llamadas locales y nacionales a teléfonos fijos que desee las 24h del día por la línea que ha contratado la oferta conjunta de telefonía e internet..
Las cuotas mensuales serán prorrateables tanto en el alta como en la baja.
La velocidad del ADSL contratado depende finalmente de multitud de factores, como por ejemplo, la distancia a la central, la calidad de la línea y las posibles interferencias que puedan producirse. Adicionalmente, la velocidad va a depender del dimensionamiento del servidor de destino (procesador, memoria, usuarios concurrentes, caudal a Internet) al cual esté accediendo. Jazztel no puede garantizar la velocidad contratada en todos los casos. Jazztel realizará sus mejores esfuerzos para que usted disponga de la máxima velocidad técnicamente posible con su ADSL.
Enlaces externos:

QUE SON 20 MEGAS, A VER SI TE ENTERAS
Ad blocker interference detected!
Wikia is a free-to-use site that makes money from advertising. We have a modified experience for viewers using ad blockers

Wikia is not accessible if you've made further modifications. Remove the custom ad blocker rule(s) and the page will load as expected.