Ad blocker interference detected!
Wikia is a free-to-use site that makes money from advertising. We have a modified experience for viewers using ad blockers

Wikia is not accessible if you've made further modifications. Remove the custom ad blocker rule(s) and the page will load as expected.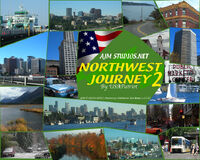 Visit the AJM STUDIOS Northwest Photo Journey[[1]]
The AJM STUDIOS Northwest Photo Journey was created on June 16th, 2006 and is showcased on AJM Studios. The Northwest Photo Journey's photographer USAPatriot, travels the northwest to get pictures of everyday and non everyday things to show the world. the database of images is well over 10,000 images from Washington, Oregon, and Alaska. Always more images being uploaded. Truly an amazing photographic experience.
AJM STUDIOS.NET Northwest Photo Journey Photo Index
Below is a list of all the places in the Northwest Photo Journey currently featured as of 5-1-08. If a number is beside the place
Washington State
Arlington
Battle Ground
Beckett Point
Bellevue(7)
Bothell
Bremerton (2)
Carnation
Centralia
Chehalis
Deception Pass
Duvall
Edmonds(2)
Everett(4)
Factoria
Ferry Edmonds to Kingston
Fort Warden
Friday Harbor
Gig Harbor
Kalama
Kingston
Kirkland
Lynnwood(3)
Maltby
Marysville
Maydenbauer
Mill Creek (2)
Mountain Loop Highway (2)
Mukilteo
Olympia
Port Gamble
Port Townsend(4)
Redmond
Renton
Seattle(6) (Different districts included.)
Silverton(2)
Snohomish
Snohomish Valley
Snoqualmie
Snoqualmie Falls
Tacoma (2)
Tacoma Narrows
Tulalip Indian Reservation(2)
Vancouver(3)
Walla Walla (2)
Woodinville
Woodinville Valley
Oregon
Clarkes
Hayden Island
Portland(3) (Different Districts Included)
Alaska
Anchorage(3)
Eagle River
Fairbanks(2)
Juneau
Kenai (Road to Kenai)
Kodiak(Also around Kodiak)
Wasilla