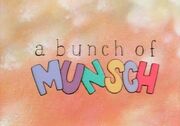 A Bunch of Munsch is an animated Canadian show that gives us kids action and adventure.
Episodes
Thomas' Snowsuit: Thomas tries to run away from the grown-ups such as the teacher and principal who want him to put an ugly brown snowsuit of his on.
50 Below Zero: Jason realizes that his house is going crazy especially when Papa is wandering around sleepwalking.
The Paper Bag Princess: Our story takes place in England where Princess Elizabeth makes friends with a dragon.
Pigs: Megan is on a school field trip visiting the farm, including a chaos of pigs.
David's Father: David and his father have fun together.
Murmel, Murmel, Murmel: Robyn meets a baby and decides to find an owner to take care of him.
The Boy in the Drawer: A gnome takes over the sock drawer and it's up to Shelly to eliminate him.
Something Good - Julie, Andrew, and Tyya are on a trip to the grocery store.
Mortimer - Mortimer always sings louder.
Angela's Airplane: Angela learns how to fly an airplane.
The Fire Station: Our friends visit the fire station by having fun.
Moria's Birthday: Moria is having a birthday party but learns that making birthday plans isn't such a good idea.
Blackberry Subway Jam: Jonathan goes on a blackberry mission to stop the subway from making a mess in his house.
Ad blocker interference detected!
Wikia is a free-to-use site that makes money from advertising. We have a modified experience for viewers using ad blockers

Wikia is not accessible if you've made further modifications. Remove the custom ad blocker rule(s) and the page will load as expected.