Early in 2007 Gover Records released Rico's latest version of A Message To You, Rudy, a song he's been recording and playing since 1967. Rico became famous for his solo of the Specials' version in 1979. This one was recorded with Soulfood International, a young band he's playing with since 2004. It's their first record together.
Releases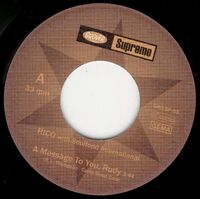 7": Grover Supreme GRO-SP 03 /DE
released ca. March 2007
Tracks:
A-Side
B-Side
Rico with Soulfood International:
"Rastaman Shuffle" (Rico Rodriguez) 2:44
"You Can Count On Me" (Rico Rodriguez / Florian Wagner) 3:27
Ad blocker interference detected!
Wikia is a free-to-use site that makes money from advertising. We have a modified experience for viewers using ad blockers

Wikia is not accessible if you've made further modifications. Remove the custom ad blocker rule(s) and the page will load as expected.