Ad blocker interference detected!
Wikia is a free-to-use site that makes money from advertising. We have a modified experience for viewers using ad blockers

Wikia is not accessible if you've made further modifications. Remove the custom ad blocker rule(s) and the page will load as expected.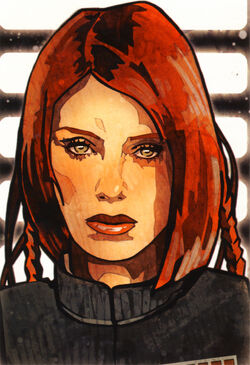 Early Life
(Admiral Daala was born on cardia and quickly found a great love for the ideal of the empire, she began to study tactics and weapons at a young age. when she applied to the imperial acadamy on cardia she quickly became the top of her class. however due to the fact she was a female she was forced to work doing demeaning jobs and secratary work. she took on a alias and began doing simulations of battles and her results were quickly analised, the people in charge began to search for their prodagy and eventualy Grand Moff Tarkin came loo0king for the genius, apon seeing that she was being forced to do meaning less tasks, he took the young Daala off planet and gave her the rank of Admiral.
Daala was put in command of the defence of the secretive Maw Instalation and was given 4 Imperial class star destroyers however during a raid by han solo and kyp durron daala was forced to flee the instilation. she then set out on a personal journey to reunite the now divided empire, and with the aid of paeleon she attacked the rebel outpost/ jedi training acadamy of yavin 4. her second ship, the Knight hammer was destroyed leaving her without a ship)
During the Chaos Crisis
(in a time period known as the Chaos Crisis, Daala was enduring a civil war with her former allies, and eventualy hatched a plan to destroy the now fledging rebelion she lured several officers with super weapons from one rebel planet to the next and fleed just as the officer fired at the planet. apon reaching mon Calimari Daala sent out a transmission and destroyed her fleet, it was assumed she died on the explosion and sucseffuly managed to freeze the planet by knocking it off it's orbit.
mid 30's
(Daala resurfaced several years after the crisis and showed she did not die in the self destruct but in fact was rebulding and biding her time, she took the imperial class star destroyer "vengeance" as her new Flagship and eventualy began to gather new soldiers
Titan IV
The battle for Titan IV was the first battle that Daala faught in the forum wars universe Daala faught with several others to maintain control of the planet prom invading replicators but the battle was lost and the planet fell to the brotherhood and replicators
invasion of venom
The invasion of Venom was a assult to capture the planet of Venom but also to bring known Crimanel Andross to justice, the operation was spearheaded by The Power of Flower and Daala, during the aussult the battle plan worked out by daala worked soundly but daala was assasinated before she could see the results of the ground battle
death
Daala was killed in action during the invaision of Venom her death remaines a mystery but it is belived she was tierd of leading militaries she named Scolar Visari as the leader of her people
Scolar Visari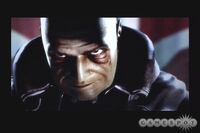 Scolar Visari was named leader of Daala's forces minuets before her death

he is far more versed in tactics but lacks fundamental experiance Visari has wartime experiance and Daala chose him for his ability to think under presure, though doing things that might seem a bit drastic Visari has been involved in many battles and had sever hundred kills to his credit
personal fleet
Tie Interceptor mkIII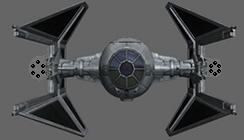 a fast and very manuverable craft armed with 4 blasters, 2 ion cannons and 2 concussion rocket pods a fantastic anti-aircraft tool lightly armoed with basic sheilds
specs
crew-1 pilet
armour rating 2/10
sheild rating 2/10
Outlaw Star class fighter
The outlaw Star class fighters are grapler ships designed to grab onto other ships and use vaeius weapons to kill them off
a very advanced ship very adept at making other ships into nothing
specs
arms
60 missile banks
2 cutter saws
2 photon rifles
2 long swords
blaster cannons
Tie Bomber mkIII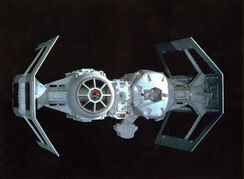 The tie bomber was designed as a support craf initialy however Scolar Visari saw potentail and increased the firepower of the ship and increased it's roles. the ship has been redisigned with 4 ion cannons 4 rail guns 2 blaster cannons and a bomb bay, the ship can carry proton bombs or missiles
specs
crew 2
arms
4 ion cannons
2 blaster cannons
1 bomb bay
4 rail guns
Helghan Assult fighter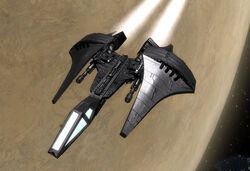 The helghan assult fighter was designd by scolar visari to be the militaries best fighter, it is armed with 6 missile banks 2 ion cannons and 6 blaster cannons it has extreamly heavy sheilds and is quite fast.
stats
crew 1
armor rating 3/10
sheild rating 4/10
manuverability 7/10
arms
6 blaster cannons
6 missile banks
2 ion cannons
Razgriz class corvette
A small but well armored corvette capable of beating most fighters with relitive ease
specs:
armament:
6 laser cannons
2 concusion missile launchers
length 256 feet
Razgriz class heavy corvette
A much more powerfull corvette with thicker armor great at anti fighter roles and anti corvette roles as well
specs:
armament
16 laser cannons
8 concusion missile launchers
2 proton torpedo launchers
Tarkin Class Battle Factory
Daala's second ship design was the tarkin mk I class battle factory a small ceramic plated factory ship that used powerfull tractor beams to gather small space debris and turn them into tie/d fighters

Specs:
length: 240 feet
Armament: 2 laser cannons
Armor: prototype ceramic plates
sheilding low
The mkII version of the tarkin increased it's size and the ability to produce additional ships, items, products ect. came with it.)
Specs:
length: 520 feet
Armament: 6 laser cannons
Armor: protosteel/titanium alloy
sheilding: low
Sandrock missile frigate
One of the most expensive ships of the line, the Sandrock missile frigate was designed to barrage targets with a hail of medium range medium power missiles it's capable of launching it's entire compliment of togo missiles in a matter of 45 seconds
specs
length 600 meters
armor 16 inch durasteel
armament
2 laser cannons
30 missile batteries (30 missiles each battery)
reserve's
3000 togo missiles
Razor class Star destoyer
the razor mkI class star destroyer was the first cooperative venture started as co founder of the free trade coalition a small ship the ship uses it's size (about the size of a victory I) to punch through front lines
specs:
length: 2,953 feet
arms:
1 static cannon
6 quad turbolaser batteries
4 ion canonn batteries
The Razor mkII was the second ship created by the free trade coalition and improved apon the design by adding super lasers to it along with several other weapons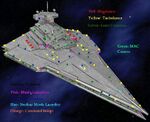 specs:
length 900 meters
arms
8 turbolaser batteries
2 megalaser batteries
12 laser cannon batteries
1 static cannon
1 nuke launcher
6 missile launchers
2 MAC cannons
Magnus class star destroyer
pincer class star destroyer
The pincer class Star destroyer was a small 450 meter long boarding ship with 2 large battering rams designed to punch into the hull of a ship open up and deploy troops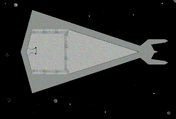 Specs
length 450 meters
arms
12 laser cannons
6 protom torpedo launchers
4 quad turbolaser batteries
2 batering rams
longbow class star destroyer
Krakana class star destroyer
Bane Class star destroyer

though a small craft for it's class the Bane class star destroyer was designed to take on multiple ships more than it's size, it bolsters heavy ion cannons, and heavy missiles
specs
creator: Free trade coalition
armor 14 inch thick durasteel / titanium alloy
arms:
6 quad turbolaser batteries
2 heavy ion cannon batteries
2 ion beam emiters
2 static cannons
14 missile launchers
dragonhawk star destroyer

the dragonhawk was designed as an light escort ship for bigger more powerfull ships though by it's self it's still no light ship. capable of defeating ships the same size comes with a full compliment of fighter
specs
creator: Free Trade Coalition
length 1800 meters
armor 16 inch durasteel
arms
12 turbolaser batteries
10 ion cannon batteries
2 static cannons
1 ion beam emiter
6 missile ports
Trebor class star destroyer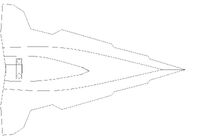 Inova Class Star destroyer
Vekta class star destroyer
Dagger Class star destroyer

a ship twice the size of a isd I a ship that has fantastic armor and is very fast and has some of the highest grade precision weapons but lacks heavy weapons more sutable to this class of ship
allegince class star destroyer
chanceler class star destroyer
Titan titan mkII Super Star Destroyer
a 6 mile long super star destroyer the titan mkII was designed and built as an escort to the palpatine class but also as a command ship. this ship bolsters heavy sheilds and heavy armor as well as moderate weapons
specs
36 quad turbolaser batteries
26 ion cannon batteries
16 torpedo launchers
16 missile launchers
2 static cannons
armor is 22 inch thick durasteel
titan mkIII
A slightly shorter version of the mkII titan, this ship is more armed but less armored
length 5.75 miles
armor 16 inch durasteel with ceramic coverplates
56 turbolaser batteries
40 ion cannon batteries
10 static cannons
2 MAC cannons
1 ion beam emiter
Helghan Class Super Star Destroyer
The Helghan class super star destroyer was commisioned by Scolar as a ship to break blockades and ram other ships, the ship is one of the most armored craft in the fleet and bolsters a huge amount of weapons, at 14 miles in length it's no push over
Palpatine class super star destroyer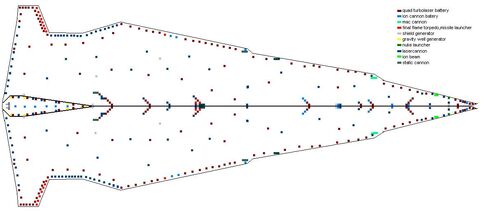 the longest ship available to Daala is the Palpatine class super star destroyer a overall length of 21.5 miles makes it one of the largest ships there is, lightly armed for it's size and lightly armored it had to compinsate with heavy sheilds. specs unavailable.)
personal army
Admiral Daala utilaizes several types of units and is reknown for managing to turn the tide of battle with some of her well trained snipers. Daala's snipers take pride in the fact they are some of the best if not the best trained sniping force available. most of the troops in use used out dated weapons and other such things till Visari and daala bot discovered new way's to kill people, droids. both leaders learned to use them effectivly especialy after the discovery of the famed static cannons both leaders stresed defences and trained all troops in hand to hand combat and close quarter combat though as usual snipers got the best training to improve their survivability After counqering Vekta and Helghan Daala enlisted as many helghast soldiers as possible, the helghast flocked to the new leader beliving in the promises of a new empire both gaining their trust and their loyalty, the helghast imidiatly began to build new tanks, and other vehicles
Imperial Forces
Stormtrooper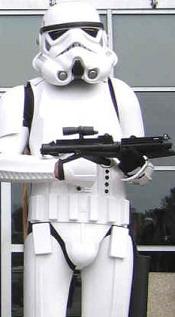 the standard imperial soldier armed with a outdated E11 blaster rifle. the storm trooper was used to great effect to instill fear into disident civilians they use light plasteel armor and were trained to the point of being able to fight on par with most modern militaties
specs
number to a squad 50
arms
E11 blaster rifle
static grenades
light blaster pistol
Stormtrooper sniper
The Stormtrooper Sniper was a class of special troopers who trained to hit target's severl miles away, Daala and later Vasiri both used snipers to great effect throughout their campains the snipers were given light armor with Adaptive opticle camoflage
that would make them almost invisible, they trained in close quarters combat as well but main focus was on long range snipers were alowed to choose what rifle they wanted to use
The most presteges snipers became Visari's personal bodyguards and were allowed to wear any armor they felt fit them
specs
Armor light plasteel
extra's
E56 blaster rifle snubnose
sniper rifle of choice
Adaptive opticle camoflage
light blaster pistol
fragmentation mines
C8 plastic explosives
the core of snipers was designed to be the best, and under Daala, and Visari they did just that

Scout trooper
A lightly armed and armored trooper that is used to scout out locations and discover enimy where abouts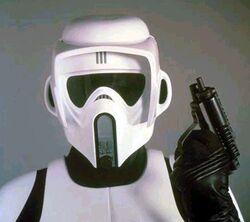 specs
armor light plasteel
arms
light blaster pistol
sonic mines
sonic grenades
Helghan forces
Helghan_soldier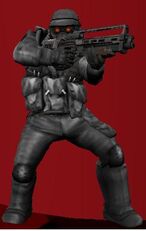 The helghan soldier is a highly trained soldier that uses all forms of weapons and comes equiped with helghan industries mark 3 body armor the solderis make up the bulk of helghan forces and is heavily trained
amount per squad 25
armor helghan industries mark 3 body armor
standard equipment
3 anti personel fragmentation grenades
2 smoke screen grenades
6 50 round drum magazines (for the Helghan AR-198)
a Helghan AR-198 assult rifle
helghan heavy support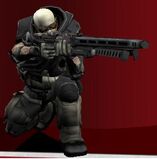 A heavy soldier trained to use the heaviest weapons available uses helghan mark 1 body armor and through genetic enginerring is stronger physicly than humans.
number to a squad 25
equipment
6 anti personel frag grenades
6 100 round drum magazines (for the lmg86)
LMG86 light machine gun
helghan infiltrator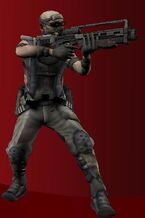 a highly specialised soldier squad 25 soldiers Experts with group oreanted stealth combat and light armor
number to a aquad 25
armor helghan mark 3 body armor
equipment
sr666 sniper rifle
3 flashbang grenades
2 combat knives
6 6round magazines (for the sr666)
Helghan Shadow marshal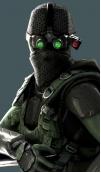 the shadow marshals are assasins, nothing moer nothing less, experts with scilenced weapon and melee weapons
stats
armor unknown
number to a squad 1
weapons unknown
equipment unknown
units (mechs tanks ect.)
Jet bike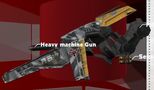 a fast moving scout ship/ anti infantry capable of hit and run tactics and scouting out positions
crew 1
armed with 1 heavy machine gun
armor almost none
max speed 500 miles per hour
APC
a heavily armored anti aircraft/anti infanty tank comes with a battering ram to knock obsticals out of the way
specs
crew 3 one gunner 1 driver 1commander
max speed 22 miles per hour
arms
4 heavy anti aircraft machine guns on a turret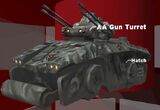 Helghan light tank
A light anti gravity tank with a mini gun and large 150mm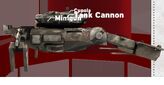 cannon
the minigun it posseses can fire up to 13,000 ropunds per minute. the tank has light armor but can move much faster over a battlefeild than it's heavy counterpart
stats
6 inch armor
1 mini gun
1 150mm cannon
crew 3 people 1 driver 1 gunner 1 commander
MRL
A Heavily armored anti fortification weapon it uses duel missile racks (8 missiles per rack) movement is provided by anti gravity stabalizers it also comes with a battering ram
specs
crew 3 1 driver 1 gunner 1 commander
max speed 30 miles per hour
armor 12 inch durasteel plate
arms
duel missile racks
battering ram

weapons
meer'souns class cx405 sniper rifle
a high powered sniper rifle that fires a blaster charged .45 calibur railround as a red hot projectile, this round gathers heat from friction with the air and upon impact becomes hot enough to melt into a liquid tripiling the power of the shot and alowing it to pass through solit objest like a hot knife through butter. it works great as an anti armor weapon
round length- 6 inches
length 3.1 feet
wegth 14 lbs loaded 10lbs unloaded
effective range-2600 meters
scope meer'souns mark XII 25x variable scope
ammunition 45.blastercharged railround
velocity 4300 feet per second
magazine 9 rounds
charge 9 shots
round penetration-11.2 inches in durasteel-16.6 in concrete
pro's deep penetrator. heavy dmg. long range. fast rate of travel
cons heavy charge cost. heavy. extremely high recoil.
Free Trade Coalition
A founding Member of the FTC Daala was replaced by Visari who maintaies the same prices and quality as Daala
FTC Market
razor class star destroyer price each 150,000 republic credits
arnament:
6 turbolaser batteries
4 ion cannon batteries
1 static cannon
Static cannon price each 100,000 credits each a cannon weapon that charges electricity through a steel encased 240 mm cannon round to hit any metal with several million volts electricity
Static Turret price 40,000 republic credits each A smaller but no less leathal static cannon mounted on a turret
Bane class star destroyer 900 meter long ship
price 175,000 republic credits for 1
6 quad turbolaser batteries
2 heavy ion cannon batteries
2 Ion beam emiters
2 static cannons
14 missile launchers
SR-666 sniper rifle
2.3 feet long
6 round magazine
20X helghan scope
efective range 1025 meters
type of round used 16 g. .558 round
price for 1 box of 10 30,000 republic credits
price for 10 boxes of 10 275,000 republic credits
Slayer rocket launcher fiers up to 3 remote controled rockets at the same time all can be controled by the same remote good armor penetration, but not fantastic as a anti aircraft weapon, great as a anti infantry weapon and anti armor
price for 1 box of 10 35,000 republic credits
price for 10 boxes of 10 300,000 republic credits
Helghan Soldier squad a group of 25 heghan solders (see pic) proficiant with most weapons has medium armor
1 squad 6,000 Republic credits
Helghan Heavy support squad a group of 25 soldiers Experts with heavy weapons and heavy armor
1 squad 12,000 republic credits
Helghan Infiltrator a highly specialised soldier squad 25 soldiers Experts with group oreanted stealth combat light armor
1 squad 10,000 republic credits
Shadow marshal A highly trained assasin single soldier great with sniper weapons and melee weapons
1 shadow marshal 15,000 republic credits
Floating Fortress A gient hull almost similar to the at-at's hull but better armored and has more weapons, can transport troops, supplies,and vehicals into a battle
price for 1 50,000 republic credits
price for 10 250,000 republic credits
Razgriz class light corvette A small but well armored corvette capable of beating most fighters with relitive ease comes with 6 heavy laser cannons
2 concusion missile launchers
price for 1 35,000 republic credits
price for 10 300,000 republic credits

Razgriz class heavy corvette A much more powerfull corvette with thicker armor great at anti fighter roles and anti corvette roles as well
16 heavy laser cannons
8 concusion missile launchers
2 proton torpedo launchers
price for 1 40,000 republic credits
price for 10 350,000 republic credits

Dagger Class star destroyer a ship a little bigger than the size of a isd I, a ship that has fantastic armor and is very fast and has some of the highest grade precision weapons but lacks heavy weapons more sutable to this class of ship
60 precision rail guns
6 static cannons
10 turbolaser batteries
2 ion cannon batteries
price for 1 100,000 republic credits
price for 10 900,000 republic credits

Dragonhawk star destroyer the dragonhawk was designed as an light escort ship for bigger more powerfull ships though by it's self it's still no light ship. capable of defeating ships the same size comes with a full compliment of fighter
12 turbolaser batteries
10 ion cannon batteries
2 static cannons
1 ion beam emiter
6 missile ports
price for 1 120,000 republic credits
price for 10 1,000,000 republic credits

Jet bike a fast moving scout ship/ anti personel
crew 1
armed with 1 heavy machine gun
price for 1 6,000 republic credits
price for 10 50,000 republic credits

APC a heavily armored anti aircraft/anti infanty tank comes with a battering ram to knock obsticals out of the way
crew 3
armed with 4 heavy machine guns
price for 1 10,000 republic credits
price for 10 90,000 republic credits

MRL A Heavily armored anti fortification weapon it uses duel missile racks (8 missiles per rack) movement is provided by anti gravity stabalizers it also comes with a battering ram
crew 3
armed with 2 missile racks
price for 1 20,000 republic credits
price for 10 180,000 republic credits
light tank the minigun it posseses can fire up to 13,000 ropunds per minute. the tank has light armor but can move much faster over a battlefeild than it's heavy counterpart crewed by 3 ppl
   * stats
   * 6 inch armor
   * 1 mini gun
   * 1 150mm cannon
   * crew 3 people 1 driver 1 gunner 1 commander

price for 1 25,000 republic credits
price for 10 225,000 republic credits