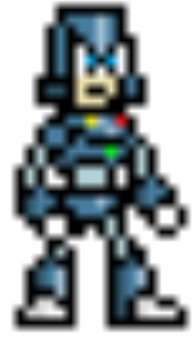 Adventure Man 
is an Titular Character & the Main Protagonist of
the Games of the Same Name
.
Trivia
Adventure Man is an Standard character Similar to MegaMan.
He is one of the Heros of the Year 20XX
He & Megaman can both Get Robot (Reacters/Masters) Weapons.
Bio
Gender: Male
Species: Humanoid, Hero Robot.
Faction: Good
Godd Point: Heroic
Bad Point: None
Likes: Animals
Dislikes: Unknown
Allies: Tailgirl (Sidekick & Best Friend), Dr. Toddeter (Creator), Plasma Boy, Diamond Girl, River Boy, Shaftway Girl, Volcano Boy, Fairy Girl, Alien Boy, Helix Girl (Assistents), Dash (Pet Dog), Leak (Helper Bird), Shatter Man, Roll Girl (Sister), Protoman (Brother), Rock Woman (Girlfriend), Water Balloon. W, Thunder Bolt. T, Wild Coil. C, Ice Wave. I, Flame Sword. F, Tornado Hold. S, Copy Vision. V, Commando Bomb. B, Toad the Robot & Others
Rivals: Gemerl (Arch-Rival), Robot Reacters & Protoman (briefly)
Enemies: Dr. Robotnik (Arch-Enemy), Scratcher & Grounderbot, Death Man, Robotnik Machines, Metools & Cryptman
Counterparts (Adventure Man Version) (Hero Version) (Man Version)
Counterparts (Villain Version)
Counterparts (Woman Version)
Counterparts (WarioWare (T,J&H Version) Version)
Gallery
Ad blocker interference detected!
Wikia is a free-to-use site that makes money from advertising. We have a modified experience for viewers using ad blockers

Wikia is not accessible if you've made further modifications. Remove the custom ad blocker rule(s) and the page will load as expected.