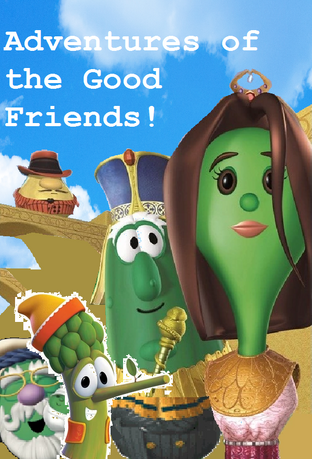 Adventures of the Good Friends! (VF2000's version)
is what happens when 
Esther... The Girl Who Became Queen
(November 1995), 
Abe and the Amazing Promise
(November 1999), and 
Pistachio: The Little Boy that Woodn't
(June 2010) are made by Disney/Pixar, respectively replacing 
Toy Story
, 
Toy Story 2
and 
Toy Story 3
. This DVD might come out sometime by DreamWorks Classics in October 4, 2013.
Stories
DVD Contents
20th Century Fox Home Entertainment logo
Coming Soon to Own on DVD bumper
Shrek the Musical trailer
The Croods trailer
Turbo trailer
VeggieTales: Merry Larry and the True Light of Christmas trailer
DVD Menu
FBI Anti-Piracy Warning/Homeland Security Investigations Special Agent Screen
National Intellectual Property Rights Coordination Center Screen
Walt Disney Pictures logo (2006-present)
Pixar Animation Studios logo
Esther: The Girl Who Became Queen
Abe and the Amazing Promise
Pistachio
Credits for "Esther: The Girl Who Became Queen"
Credits for "Abe and the Amazing Promise"
Credits for "Pistachio"
DVD Bonus Features
Ad blocker interference detected!
Wikia is a free-to-use site that makes money from advertising. We have a modified experience for viewers using ad blockers

Wikia is not accessible if you've made further modifications. Remove the custom ad blocker rule(s) and the page will load as expected.