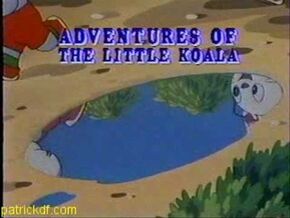 Adventures of the Little Koala (known as Koala Boy Kokki in Japan) is a children's anime that was produced by Tohokushinsha Film Corporation and it aired in Japan from October 4th, 1984 to March 28, 1985. The series was dubbed in English by Canadian animation company Cinar in 1987 and aired on Nickelodeon from June 1st, 1987 to April 2nd, 1993. The series focuses on a young Koala boy named Roobear and his everyday experiences with his friends and family in Australia. 
Parodies
Ad blocker interference detected!
Wikia is a free-to-use site that makes money from advertising. We have a modified experience for viewers using ad blockers

Wikia is not accessible if you've made further modifications. Remove the custom ad blocker rule(s) and the page will load as expected.