A Africa, no universo SI, sempre foi esquecida, nunca tendo de fato importancia até o dado momento em que a França se interessou, tomando conta dela por completo.
História
A Africa, um continente sem grandes paises, sem grande economia, e sem grande governo, nunca foi muito util. Em 21 de Abril de 2007, a acessora do ministro francês entrou com exércitos franceses em vários paises da AFrica, declarando que todos estavam sob dominio Francês.
O povo foi ao delirio, felizes, por finalmente terem uma admistração. Passando três dias, o ministro John Draco decidiu por dar a liberdade ao povo africano, fundando a UPA (união dos paises Africanos), deixando todos os paises com governos livres, mas sob a restrição de serem uma dita colonia do império Francês.
Na reunião da ONU em 29 de Abril, os demais quatro paises percententes ao primeiro escalão, não gostaramd as medidas tomadas pela frança e em uma votação, decidiram pela divisão do território.
A divisão foi feita pelo secretário Geral da ONU o sr. Jordan Halliwell Draco e consciste na seguinte divisão regional: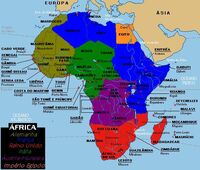 Colônias do Reino Unido
O Reino Unido ocupa a região Sul da África, constituida pelos paises:
1.Namíbia
2.Botsuana
3.ÁFrica do Sul
4.MAdagascar
5.Zimbábue
6.Lesoto
7.Suazilândia
8.Comores
Colônias da França
1.Argélia
2.Tunísia
3.Libia
4.Sudão
5.Eritréa
6.Etiópia
7.Somália
8.Djibuti
9.Quênia
10.Tanzânia
Colônias da Alemanha
1.Marrocos
2.Mauritânia
3.Senegal
4.Gâmbia
5.Guiné-Bissau
6.Cabo Verde
7.Mali
8.Guiné
9.Costa do Marfin
10.Libéria
11.Gana
12.Serra Leoa
13.Burkina Faso
Colônias da Itália
1.Togo
2.Benin
3.Níger
4.Nigéria
5.Camarões
6.Chade
7.Rep.Centro Africana
8.Guiné Equatorial
9.São tomé e Prícipe
10.Rep.Congo
11.Gabão
Colônias da Àustria-Hungria
1.Rep.Dem.Cong
2.Angola
3.Zâmbia
4.Uganda
5.Seychelles
6.Malavi
7.Burundi
8.Ruanda
O Império Egipcio
Ver artigo principal: Egito USI
Unico país da Africa independente. Nas mãos de Michel Noctua, o pais conseguiu se manter livre.
Ad blocker interference detected!
Wikia is a free-to-use site that makes money from advertising. We have a modified experience for viewers using ad blockers

Wikia is not accessible if you've made further modifications. Remove the custom ad blocker rule(s) and the page will load as expected.