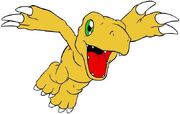 Agumon 
is a character from 
Digimon
.
Counterparts
James the Red Engine (Thomas the Tank Engine and Friends)
Top Hat (TUGS/Salty's Lighthouse)
Mario (Super Mario Bros.)
Antoine D'Coolette or Knuckles (Sonic the Hedgehog)
Charmander (Pokemon)
Tokkori or Knuckle Joe (Kirby)
Roy Rooster (Garfield and Friends)
Squidward Tentacles or Gary (Spongebob Squarepants)
Plucky Duck (Tiny Toon Adventures)
Eric Cartman (South Park)
Moe Syzlak or Bart Simpson (The Simpsons)
Jeremy Johnson (Phineas and Ferb)
Gene (Wreck-It Ralph)
Perry (Phineas and Ferb)
Lars Alexandersson (Tekken)
Ad blocker interference detected!
Wikia is a free-to-use site that makes money from advertising. We have a modified experience for viewers using ad blockers

Wikia is not accessible if you've made further modifications. Remove the custom ad blocker rule(s) and the page will load as expected.