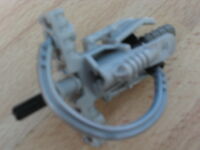 Ainon
jet-pack on jet-pack jossa on tasan 101 eri ominaisuutta tai voimaa. Aino sai jet-packin kun
Tongan
energia levisi ympäri tämän salia kun hänet voitettiin. Energia ei kuitenkaan kulkeutunut ainoastaan Ainon läpi, vaan myös kone osien ja muun tekniikan läpi, jotka olivat siinä huoneessa. Niistä muodostui jet-pack, jota Aino käyttää nykyään.
Jet-pack meni rikki Paluu Bio-Maahan tarinassa, mutta Gali korjasi sen. Sen nykyisestä tilanteesta ei kuitenkaan tiedetä mitään, se lensi ulos Turagan Tornin ikkunasta Ainon mukana.
Lista jet-packin voimista
Lentäminen, polttoaine ilmasta
Kiikari laite
Räjähdys toiminto, räjäyttää mitä vain
Pommi, voi pommittaa pieniä keltaisia räjähtäviä kuulia
Automaattinen tiirikka
Muita voimia lisätään, kun niistä saadaan selville.
Ad blocker interference detected!
Wikia is a free-to-use site that makes money from advertising. We have a modified experience for viewers using ad blockers

Wikia is not accessible if you've made further modifications. Remove the custom ad blocker rule(s) and the page will load as expected.