Ajaxina "Ajax"
is an Clay TV 
Thomas the Tank Engine and Friends
 Protagonist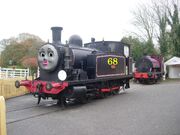 She is an Female Character and the Number 68
Bio
Gender: Female
Number: 68
Allies: Thomas, Edward, Henry, Gordon, James, Percy, Toby, Duck, Donald, Douglas, Oliver, Bill, Ben, Harvey, Toad, The Master of the Railway "Hiro", Porter and others
Rivals: Winston, Stafford, Belle, Flynn
Worst Foes: Diesel, Diesel 10, Spencer (Previously), Smudger, Arry and Bert, Quorton, Harjars
Very Worst Enemies: Scrap Heap Monster
Theme
Ajax's Theme is the Season 2 Wrong Road/Sodor Watermill Theme
Counterparts (Do Not Delete, But You Can Add)
Ad blocker interference detected!
Wikia is a free-to-use site that makes money from advertising. We have a modified experience for viewers using ad blockers

Wikia is not accessible if you've made further modifications. Remove the custom ad blocker rule(s) and the page will load as expected.