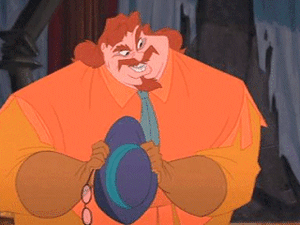 Alameda Slim is the main antagonist in Disney's 2004 feature film Home on the Range. He was voiced by Randy Quaid.
Counterparts (Male Version)

 WARNING: You may add appropriate counterparts. But, do NOT delete any.
Prince Charming (Shrek 2 and Shrek The Third)
Cat R. Waul (An American Tail: Fievel Goes West)
Fuzzy Lumpkins (The Powerpuff Girls)
Scott (Total Drama)
Counterparts (Female Version)
Ad blocker interference detected!
Wikia is a free-to-use site that makes money from advertising. We have a modified experience for viewers using ad blockers

Wikia is not accessible if you've made further modifications. Remove the custom ad blocker rule(s) and the page will load as expected.