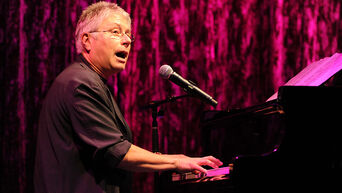 Alan Irwin Menken
(born July 22, 1945) is an American
Musical Theater
, Television and Film Instrumental, Songwriter and Pianist.
Alan Menken is best known for his scores for Films produced by Walt Disney Animation Studios. Menken has collaborated with lyricists including Howard Ashman, Tim Rice, Richard Rich, Glenn Slater, Judy Rothman Rofe, D.B. Sweeney, Stephen Sondheim, Stephen Schwartz, Mary Reitherman, Jack Feldman and David Zippel.
Life and Career
Menken was born New York NY to a Jewish Family, the son of Judith and Norman Menken, a Dentist.
Film and Television work
Alan's work was never ends and for Walt Disney Studios, And of course Menken was the composer too.
1992 - Aladdin with songs lyrics by Howard Ashman and David Zippel (And Alan Menken wrote the score)
1992 - Newsies with songs lyrics by Jack Feldman
1995 - Pocahontas with lyrics by Stephen Schwartz and Alan wrote the score so as Schwartz
1997 - Hercules with songs lyrics by David Zippel and Alan wrote the score
1998 - Mulan with music by Matthew Wilder, lyrics by David Zippel (Alan Menken wrote the score which it's been orchestrated by Jerry Goldsmith)
2012 - Mirror Mirror
2012 - Tot Story 11/2 were Alan Menken wrote the score (And includes "Woody and Buzz" by Randy Newman)
2013 - Fraggle Rock with songs lyrics by David Zippel, score by David Newman (Except score by Alan Menken, Randy Newman and includes "The Claw!" by Joel McNeely)
2013 - Toy Story 21/2 were Alan Menken wrote the score (And includes "The Cleaner" by Randy Newman)