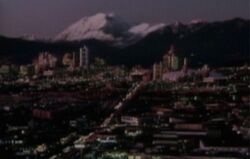 Alaska is a region of the North American continent that is one of the states making up the United States of America. It is the only state in America that bordered directly against the International Date Line.
At the end of World War III, several russian refugees took shelter in Alaska to live in peace.
One of the Earthforces academies is located in Alaska.
Geography
Cities
Mountains