Ad blocker interference detected!
Wikia is a free-to-use site that makes money from advertising. We have a modified experience for viewers using ad blockers

Wikia is not accessible if you've made further modifications. Remove the custom ad blocker rule(s) and the page will load as expected.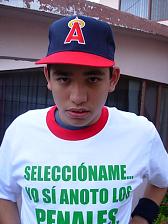 Alejandro Montoya Montes es el creador de la Alepedia, nació el 7 de Octubre de 1991 en la Ciudad de Torreón, en el año de 1994 entró al Kinder, en el año de 1995 adoptó una de sus primeras aficiones El Fútbol, en 1997 tuvo que repetir Kinder, hasta en 1998 entró a Primaria, se graduó en el 2004 y entró a secundaria, el primer semestre del 2006 no fue al colegio por Cuestiones económicas, hasta el segundo semestre del 2006 cuando lo empezaban a robar y ponerse de malas los compañeros, en el 2007 por suerte se graduó, para él lo máximo es el MAS del Instituto Vasco de Quiroga
Estados que ha visitado o ha pasado
Aguascalientes
Coahuila
Chihuahua
Distrito Federal
Durango
Estado de México
Guanajuato
Hidalgo
Jalisco
Michoacán
Morelos
Nuevo León
Querétaro
San Luis Potosí
Zacatecas
Cronología de necedades
Gente que la quiero poner a trabajar
2005
2006
2007
Diana en OXXO para que no me roben y en Wal-Mart para que no se pongan de mal humor cuando agarro lo que me roban.
Flora en Soriana para que no me roben.
Monse en Sabritas para que no me roben.
Idolatría
1997 Pecky, la directora de mi kinder
1998 Jessica
1999 Renata
2000 Ximena
2001 Franz
2002 Davor Suker
2003 Armando
2005-2006 Cat Osterman
Enlaces