Ad blocker interference detected!
Wikia is a free-to-use site that makes money from advertising. We have a modified experience for viewers using ad blockers

Wikia is not accessible if you've made further modifications. Remove the custom ad blocker rule(s) and the page will load as expected.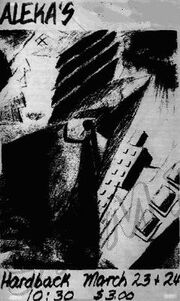 Aleka's Attic released a cassette EP with four songs in the year of 1989. This EP was sold between 1989 and 1990.
The tracklis:
SIDE A

"Goldmine" (5:24)
"Too Many Colors" (5:25)

In 1991, Gus Van Sant included one of these songs in "My Own Private Idaho" : "Too Many Colors" (that song doesn't appear on the CD soundtrack - if there's one).

SIDE B

"Across The Way" (5:04)

The song was written by River Phoenix and Josh McKay and performed by their band, Aleka's Attic. The album came out in 1989.

"Blue Period" (5:11)
Aleka's Attic Was:
River Phoenix
Rain Phoenix
Tim Hankins
Josh Greenbaum
Josh McKay
Links