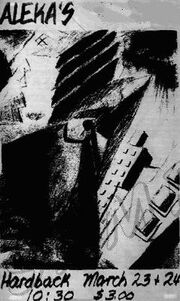 Aleka's Attic released a cassette EP with four songs in the year of 1989. This EP was sold between 1989 and 1990.
The tracklis:
SIDE A

"Goldmine" (5:24)
"Too Many Colors" (5:25)

In 1991, Gus Van Sant included one of these songs in "My Own Private Idaho" : "Too Many Colors" (that song doesn't appear on the CD soundtrack - if there's one).

SIDE B

"Across The Way" (5:04)

The song was written by River Phoenix and Josh McKay and performed by their band, Aleka's Attic. The album came out in 1989.

"Blue Period" (5:11)
Aleka's Attic Was:
River Phoenix
Rain Phoenix
Tim Hankins
Josh Greenbaum
Josh McKay
Links
Ad blocker interference detected!
Wikia is a free-to-use site that makes money from advertising. We have a modified experience for viewers using ad blockers

Wikia is not accessible if you've made further modifications. Remove the custom ad blocker rule(s) and the page will load as expected.