Alfred is an loaned B12 Class S69. He is a main antagonist in Sodor: Dark Times Series.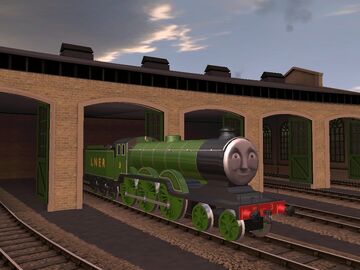 Theme
Alfred's theme is the end of the World Rock Version
Counterparts
Dark Tug, Johnny Cuba or Smelter (TUGS)
SaTam Robotink, Vichama, or Mephiles the Dark (Sonic)
Yami (Theodore Tugboat)
Lord Dregg (Teenage Mutant Ninja Turtles)
Gill (Street Fighter)
Russ Cargill (The Simpsons)
Shinnok (Mortal Kombat)
Ogre or Jinpachi Mishima (Tekken, both are green and mean)
Hockey Mask Killer (Takua, Jaller & Hahli Productions, both are Killers)
Millenumon (Digimon)
IMustDestroyAll (Angry Grandpa)
Desighidorah (Godzilla)
Ad blocker interference detected!
Wikia is a free-to-use site that makes money from advertising. We have a modified experience for viewers using ad blockers

Wikia is not accessible if you've made further modifications. Remove the custom ad blocker rule(s) and the page will load as expected.