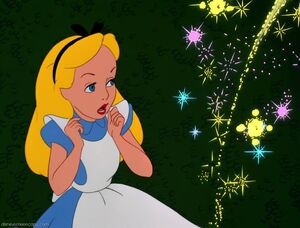 Alice
is the beautiful girl of the 1951 Disney film,
Alice in Wonderland
.
Counterparts (Female Version)
Betilla (Rayman)
Susan Test (Johnny Test)
Fluttershy, Rarity, Rainbow Dash, or Sweetie Belle (My Little Pony: Friendship is Magic)
Wendy Darling (Peter Pan)
Sandy Cheeks (SpongeBob SquarePants)
Counterparts (Male Version)
Rodney or Mike (Total Drama)
Gallery
Ad blocker interference detected!
Wikia is a free-to-use site that makes money from advertising. We have a modified experience for viewers using ad blockers

Wikia is not accessible if you've made further modifications. Remove the custom ad blocker rule(s) and the page will load as expected.