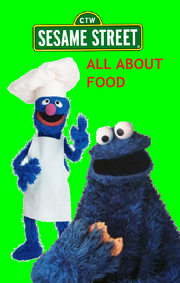 All About Food! is a direct-to-video compilation about foods to eat. In this video, Mr. Johnson (Fat Blue) goes to Hooper's Store where Alan can give him something to eat for lunch so he won't be bothered by Grover. Meanwhile,  Grover himself decides not to bother Mr. Johnson today and have lunch outside. Released in April 1999.
Segments
Grover the Singing and Dancing Waiter (EKA: Episode 2122)
Little Chrissy and the Alphabeats sing "Cluck Around the Clock" (EKA: Episode 2877)
Cereal Girl (EKA: Episode 2687)
Ernie and Cookie Monster sing "Breakfast TIme" (EKA: Episode 2488)
Cookie Monster sings "C is for Cookie" (EKA: Episode 0377)
Joe Raposo sings "Everybody Eats" (EKA: Episode 0514)
Ernie sings "Grow High Grow Low" (EKA: Episode 2448)
"Name That Food" with Don Carrot (EKA: Episode 2096)
Cookie Monster sings "Healthy Food" (EKA: Episode 2404)
Richard Dawson hosts "Family Food"
Cookie Monster and The Beetles sing "Hey Food" (EKA: Episode 2640)
Ernie makes Bert an Ice Cream Soda (EKA: Episode 0750)
Happening upon the ice cream man, Ernie wants to buy a chocolate - strawberry - peach - vanilla - banana - pistachio - peppermint - lemon - orange - butterscotch ice cream cone, but the ice cream vendor instead gives him a butterscotch - orange - lemon - peppermint - pistachio - banana - vanilla - peach - strawberry - chocolate ice cream cone. (EKA: Episode 0193)
Cookie Monster and Herry Monster sing "M-M-M Monster Meal" (EKA: Episode 2560)
"Banana Samba" (EKA: Episode 2920)
"One Banana" (EKA: Episode 2606)
Joe Raposo sings "Peanut Butter" (EKA: Episode 0303)
Ten Turltes, Artist: Bud Luckey (EKA: Episode 0815)
Ernie and Bert: Ernie decides to set up an apple-selling stand, and has everything he needs, leaving out the apples. (EKA: Episode 2365)
Ernie and Bert: Bert tells Ernie to make a grocery list, but Ernie can't find anything to write with ... except for chocolate pudding. (Bert: "He's improving. Last time he used spaghetti sauce.") (EKA: Episode 2477)
Ernie and Bert: Ernie has two slices of apple pie. He takes the big piece, and gives Bert the small piece. Bert takes offense to this, saying that he would have given Ernie the big piece and kept the small piece for himself - but the outcome is the same, so what's Bert angry about? (EKA: Episode 1285)
Ernie and Bert: Ernie has a licorice whip that he offers to share with Bert. He divides it in half with a pair of scissors, but then discovers that Bert's half is longer than his. He cuts off a little bit of Bert's half, and eats it. Then he discovers that his own half is longer than Bert's, and that's not fair, so he cuts a bit off of his own, and eats it. Ernie goes back and forth, cutting off more and more, until the licorice whip is gone. (EKA: Episode 0560)
Ernie and Bert: Ernie eats the ice cream that Bert was saving for later. Ernie tries to pass off a smashed up banana with ice and gravy for Bert's chocolate ice cream. Bert doesn't believe it, but then Oscar comes in with two ice cream cones. He wants to give one of them away, but then gives them both ice cream cones in exchange for what Ernie made. (EKA: Episode 1037)
Ernie and Bert have pizza and grape juice. Bert complains that Ernie has more of each, so Ernie tries to make it even by eating some of his pizza and drinking some of his grape juice, but then Bert has more. And so on. (EKA: Episode 0294)
Ernie and Bert: Ernie has gone shopping -- buying bread for himself, and peanut butter for Bert. They realize that it's dull to eat what they have separately, and they decide to cooperate, so they can each have a peanut butter sandwich. (First: Episode 0279)
Construction worker Sally Smith is the surprise contestant of the on-location game "This is Your Lunch." Sally must guess the contents of her lunchbox correctly after each food item gives her clues. (EKA: Episode 2423)
Credits
Executive Producer: Nancy Kanter
Producer: Karin Young Shiel
Directed by: Regge Life
Segment Directors Jim Henson, Robert Myhrum, Lisa Simon, Jon Stone
Written by: David Korr
Segment Writers: Jeff Moss, Cathi Rosenberg-Turow, Luis Santeiro, Norman Stiles
Starring: Jim Henson's Sesame Street Muppets, featuring Caroll Spinney as Oscar the Grouch, with Frank Oz, Jerry Nelson, Martin P. Robinson,  Kevin Clash, Fran Brill, David Rudman, Joey Mazzarino, Pam Arciero, Cheryl Blaylock, Camille Bonora, Ed Christie, Mike Davis, Rick Lyon, Noel MacNeal, Jim Martin, Brian Meehl, Kathryn Mullen, Karen Prell, Caroly Wilcox, Richard Hunt, and Jim Henson
Cast: Alan Muraoka as Alan, Roscoe Orman as Gordon
Songs by: Christopher Cerf, Sarah Durkee, Donald Hadley, Cheryl Hardwick, Paul Jacobs, Bud Luckey, Jeff Moss, Joe Raposo, Cathi Rosenberg-Turow, Luis Santeiro, Norman Stiles, Dan Wilcox
Production Designer: Victor DiNapoli
Lighting Designer: Dan Kelley
Costume Designers: Bill Kellard, Terry Roberson
Jim Henson;s Muppet Workshop: Mark Zeszotek, with Carol Binion, Rollie Krewson, Laurent Linn, Jason Weber
Music Director: Robby Merkin
Music Supervisor: Dave Conner
Associate Director: Ken Diego
Stage Manager: Frieda Lipp
Set Decorator: Nat Mongioi
Graphic Designer: Mike Pantuso
Technical Director: Ralph Mensch
Sound Effects: Dick Maitland
Audio: Blake Norton
Video: Dick Sens
Camera: Frank Biondo, Jimmy O'Donnell, Mark Whitman
Executive in Charge of Production for Sony Wonder: Jeff Holder
Special Thanks to: Michael Loman, Carol-Lynn Parente, Becky Mancuso-Winding, Dulcy Singer, Sharon Lerner, Jodi Nussbaum, Cher Jung, Tim Carter, Renee Rachelle, Marjorie Kalins
Ad blocker interference detected!
Wikia is a free-to-use site that makes money from advertising. We have a modified experience for viewers using ad blockers

Wikia is not accessible if you've made further modifications. Remove the custom ad blocker rule(s) and the page will load as expected.