Ad blocker interference detected!
Wikia is a free-to-use site that makes money from advertising. We have a modified experience for viewers using ad blockers

Wikia is not accessible if you've made further modifications. Remove the custom ad blocker rule(s) and the page will load as expected.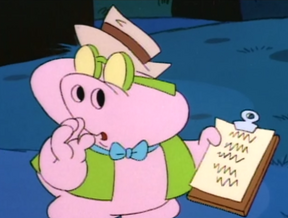 Aloysius Pig is Orson Pig's cousin who works on the show Garfield and Friends. He is somewhat of a complainer, complaining about everything from the show's budget to unwholesome nursery rhymes. He has a dart board which he uses to plan each season of TV. He also has a mother who asks him to clean his room when he is naughty. His voice actor is comedian Kevin Meaney.
Counterparts
The Wargames General (Wacky Races)
Shadow the Hedgehog or Metal Sonic (Sonic the Hedgehog)
Wario, Waluigi, Boshi, or Bowser Jr. (Super Mario Bros.)
Electrabuzz or Meowth (Pokemon)
Meta Knight (Kirby)
Superintendent Gary Chalmers (The Simpsons)
Squilliam Fancyson, Squidward Tentacles, or Robot Spongebob (Spongebob Squarepants)
Reika Tamaki (Ojamajo Doremi Series)
Yertle the Turtle (The Wubbolous World of Dr. Seuss)
Timmy (Rugrats)
Fuu-chan/Fusion (Pretty Cure Series)
God (VeggieTales)
Krang, Slash, or Bishop (Teenage Mutant Ninja Turtles)
Gallery