Justin Bonesteel movie spoof of 1992's Aladdin
Cast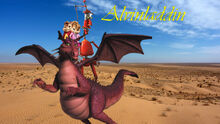 Aladdin - Alvin (Alvin & The Chipmunks)
Jasmine - Brittany (Alvin & The Chipmunks)
Genie - Fender (Robots)
Jafar - Captain Gutt (Ice Age 4: Contintuel Drift)
Iago - Blu (Rio)
Abu - Sylvester (Looney Tunes)
Sultan - Surly (The Nut Job)
Rajah - Diego (Ice Age)
Peddler - Mr. Peabody (Mr. Peabody and Sherman)
Gazeem the Thief - Botticelli (The Tale of Despereaux)
Razoul - Captain Smek (Home)
Old Man Jafar - Racoon (The Nut Job)
Carpet - Dragon (Shrek)
Abu as Elephant - Toothless (How to Train Your Dragon)
And More!
Trivia
This is Justin Bonesteel's first movie-spoof ever.
Ad blocker interference detected!
Wikia is a free-to-use site that makes money from advertising. We have a modified experience for viewers using ad blockers

Wikia is not accessible if you've made further modifications. Remove the custom ad blocker rule(s) and the page will load as expected.