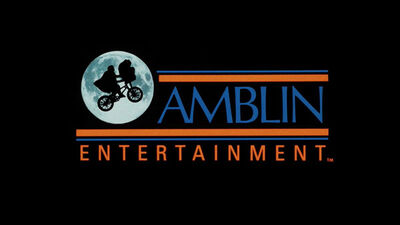 Amblin Entertainment is an American Film and Television Productions Company founded by Director and Producer Steven Spielberg, and Film Producers Kathleen Kennedy and Frank Marshall in 1981. It also gave Gerald R Molen, Walter F Parkes and Laurie MacDonald a place to call home.
It has been responsible for many projects of film, television and video games under the belts of Spielberg, Marshall, Kennedy, Molen, Parkes and MacDonald over the years. Examples include the Indiana Jones movies, E.T., Gremlins (1984), The Goonies, the Back to the Future trilogy, The Color Purple (1985), An American Tail, Innerspace (1987), Who Framed Roger Rabbit, The Land Before Time, Tiny Toon Adventures, Hook, Jurassic Park, Animaniacs, Ranma 1/2, ER (TV series), The Flintstones (1994), Little Giants (1994), Casper (1995), Balto, Pinky and the Brain, Freakazoid (Animaniacs/Freakazoid!), Twister (1996 film), the Men in Black franchise, Saving Private Ryan (1998), The Mask of Zorro (1998), and several movies and TV shows from Sony, 20th Century Fox, FOX, Paramount, Vicaom, Disney, Touchstone Pictures, Warner Bros., Spielberg's own studio DreamWorks and mostly Universal Studios.
Ad blocker interference detected!
Wikia is a free-to-use site that makes money from advertising. We have a modified experience for viewers using ad blockers

Wikia is not accessible if you've made further modifications. Remove the custom ad blocker rule(s) and the page will load as expected.