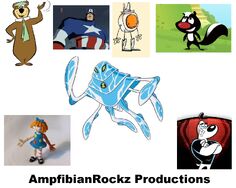 AmpfibianRockz
LIST OF MOVIES/TV SHOWS/VIDEOGAMES I HAVE SO FAR:
6Teen
Adventure Time
Aliens in the Attic
Ben 10: Alien Force
Ben 10: Ultimate Alien
Bin Weevils
Bump in the Night
Buzzy the Crow (Shorts)
Famboy and Chum Chum
Ice Age
Ice Age 2
Ice Age 3
Igor (2008)
Johnny Test
Kung Fu Panda
Kung Fu Panda 2
Megamind
Monsters Vs Aliens
Planet 51
Pet Alien
Skunk Fu
Space Chimps
Space Chimps 2
Teen Titans
The Amazing World of Gumball
The Avengers: Earth's Mightiest Heroes
The Fairly Oddparents
T.U.F.F. Puppy
WALL-E
X-Men Evolution
Yam Roll
Yogi Bear

A LIST OF PARODIES:

MY FAVORITE CHARACTER:
Ampfibian (Ben 10: Ultimate Alien)
Molly Coddle (Bump in the Night) (Ampfibian's Girlfriends)
Captain America (The Avengers: Earth's Mightiest Heroes)
Dinko (Pet Alien)
Tink (Bin Weevils)
Lem (Planet 51)
Captain America
Dudley Puppy (T.U.F.F. Puppy)
Scamper (Igor)
Sid (Ice Age)
Ham III (Space Chimps)
Ad blocker interference detected!
Wikia is a free-to-use site that makes money from advertising. We have a modified experience for viewers using ad blockers

Wikia is not accessible if you've made further modifications. Remove the custom ad blocker rule(s) and the page will load as expected.