Amtrak 406 has been here in the United States since January 1988. Originally Painted in Phase III in January 1988. Amtrak 406 was painted in Phase IV since sometime in 2005 it was coverted to Phase IV.
NPCU 406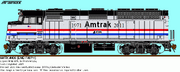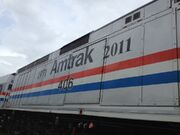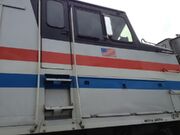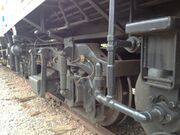 NPCU 406, built for Amtrak in July 1988 by EMD as a 3,000 horse power F40PH locomotive number #406, was rebuilt as Non Powered Control Unit #406 in 2011 at the Beech Grove, Ind., maintenance facility.  As a locomotive, the 406 operated all over the country on various routes before being stored in 2001.  It was slated to become an NPCU to augment the push-pull fleet, and chosen to be part of the Exhibit Train because it can control a locomotive without the expense of additional fuel, allowing a train to operate in either direction without turning around.  It will also provide Head End Power (HEP) to power the lights and HVAC systems onboard the train.
Ad blocker interference detected!
Wikia is a free-to-use site that makes money from advertising. We have a modified experience for viewers using ad blockers

Wikia is not accessible if you've made further modifications. Remove the custom ad blocker rule(s) and the page will load as expected.