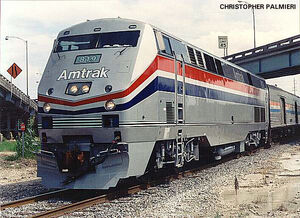 Amtrak 819 was the first
GE P40DC
locomotive to be scrapped after being destroyed in the
Big Bayou Canot
derailment. The locomotive was only three months old, with 20 days of service under it's wheels.

Not many photos exist of 819 before the derailment. The only "known" photo is by Christopher Palmieri.
Ad blocker interference detected!
Wikia is a free-to-use site that makes money from advertising. We have a modified experience for viewers using ad blockers

Wikia is not accessible if you've made further modifications. Remove the custom ad blocker rule(s) and the page will load as expected.