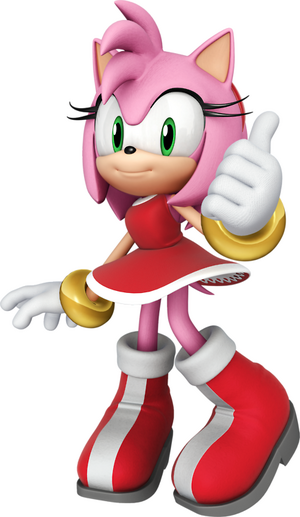 Amy Rose is a character from the Sonic the Hedgehog video game series.
Video Game Appearances
Sonic CD (1993)
Sonic Drift 1 (1994)
Sonic Drift 2 (1995)
Sonic the Hedgehog's Gameworld (1996)
Sonic the Fighters (1996)
Sonic R (1997)
Sonic Adventure (DX) (1998, 2003)
Sonic Shuffle (2000)
Sonic Adventure 2 (Battle) (2001, 2002)
Sonic Heroes (2004)
Shadow the Hedgehog (2005)
Sonic the Hedgehog (2006)
Mario and Sonic at the Olympic Games (2007)
Sonic Chronicles: The Dark Brotherhood (2008)
Mario and Sonic at the Olympic Winter Games (2009)
Sonic Colors DS (2010)
Sonic Generations (2011)
Mario and Sonic at the London 2012 Olympic Games (2011)
Sonic and All-Stars Racing Transformed (2012)
Sonic Jump (2012)
Sonic Lost World (2013)
Mario and Sonic at the Olympic Winter Games Sochi 2014 (2013)
More Coming Soon
TV Series
Voice
Bio
Species: Anthropomorphic Hedgehog
Age: 12
Fur Color: Pink
Eye Color: Green
Clothing: Red Headband, Red Dress, Red High-heel Boots
Friends: Sonic (Love Interest), Tails (Close Friends), Knuckles, Big, Cream, Cheese, Tekno, Silver
Rivals: Princess Peach (formerly), Blaze the Cat
Enemies: Dr. Robotnik, Metal Sonic, E-100 Alpha AKA Zero, Silver (when he try to kill Sonic)
Counterparts (Girl Version)
Emily or Pugwash (Theodore Tugboat)
Zephie, Koko, or Calley (Chuggington)
Tanya, Becky, Kara, or Stacy Jones (Shining Time Station)
Lanolin, Arlene, or Penelope Pussycat (Garfield and Friends)
Beth (Total Drama)
Penelope Pitstop (Wacky Races/The Perils of Penelope Pitstop)
Hilda (Dastardly and Muttley)
Prissy Polly or Gorgeous Gurinder (Horrid Henry)
Helga G. Pataki or Phoebe Heyerdahl (Hey Arnold)
Buneary, Misty, or Jigglypuff (Pokemon)
Carrie the Forklift or Maxine the Cement Mixer (Construction Site)
Twilight Sparkle or Pinkie Pie (My Little Pony: Friendship is Magic)
Tracy or Savannah (Jay Jay the Jet Plane)
Kanga or Darby (Winnie the Pooh)
Teddy Duncan (Good Luck Charlie)
Miss Honey or Matilda Wormwood (Matilda)
Trixie Tang, Tootie, or Wanda (The Fairly OddParents)
Adult Nala, Young Nala, Young Kiara, or Adult Kiara (The Lion King)
Wendy Testaburger, Bebe Stevens, or Tammy Warner (South Park)
Connie (King of the Hill)
Mrs. Karen (Zachary Swain)
Panini, Cheviche, or Truffles (Chowder)
Starly (The Legendary Starfy)
Kumatora or Paula (Earthbound/Mother)
Princess Peach, Zelda, or Jigglypuff (Super Smash Bros.)
Heather or Mari (Drawn to Life)
Nani, Lilo or Angel (Lilo & Stitch)
The Tooth Fairy (Rise of the Guardians)
Georgia or Tillie (The Little Engine That Could)
Pebbles Flintstone or Betty Rubble (The Flintstones)
Irma, April O'Neil, or Venus (Teenage Mutant Ninja Turtles)
Princess Atta (A Bug's Life)
Blue (Blue's Clues)
Alia (Mega Man X)
Roxanne (A Goofy Movie)
Wendy Darling, Jane Darling, Princess Tiger Lily or Tinker Bell (Peter Pan)
Duchess (The Aristocats)
Ariel (The Little Mermaid)
Sarah Hawkins (Treasure Planet)
Sarah or Rosie (Sonic DA)
Tessie Bear or Sally Skittle (Noddy's Toyland Adventures)
Mrs. Pottage (Postman Pat)
Magdalena the Mermaid, Dorothy The Dinosuar or Emma (The Wiggles)
Ciel or Alouette (Mega Man Zero)
Ruby (Max & Ruby)
Margaret, Eileen, or CJ (Regular Show)
Lucy Wilde or Margo Gru (Despicable Me)
Candy Kong (Donkey Kong Country)
Biyomon or Kazemon (Digimon)
Celia Mae (Monsters, Inc.)
Chi Chi (Dragon Ball Z)
Ling Xiaoyu (Tekken)
Princess Bubblegum or Flame Princess (Adventure Time)
Jewel (Rio)
Jo, Ella, Bridgette, Sierra or Izzy (Total Drama)
Princess Aurora/Briar Rose or Flora (Sleeping Beauty)
Flora (Babar)  
Millie (Skarloey Railway)
Isobella (Jack and the Pack)
Carrie or Miss Eglantine Price (Bedknobs and Broomsticks) 
Nazz, Lee, or May Kanker (Ed, Edd 'n' Eddy)
Stealth Elf or Cynder (Skylanders)
Teela (Masters of the Universe)
Arcee (Transformers)
Anna (Frozen)
Kayla (Kayla And Sabrina's Swimming Party)
Dr. Julie McElroy (Monkeybone)
Katniss Everdeen (The Hunger Games)
Maya the Bee, Miss Cassandra or Lara the Ladybug (Maya the Bee/Movie)
The Little Red Haired Girl (Peanuts)
Sakura Haruno, Ino Yamanaka, or TenTen (Naruto)
Nami or Boa hancock (One Piece)
Counterparts (Space and Galaxy Version)
Counterparts (Boy Version)
Thomas, Percy, Harvey, Salty, Bertie, James, Edward, Henry, Gordon, Toby, or Duck (Thomas the Tank Engine and Friends)
Sonic the Hedgehog (Sonic the Hedgehog)
Ten Cents, Sunshine, Top Hat, or Hercules (TUGS)
GC Mr. Conductor (Shining Time Station)
Mario, or Luigi (Super Mario Bros.)
Pikachu, Piplup, Buizel, Turtwig, or Squirtle (Pokemon)
Kirby, Tuff, or Knuckle Joe (Kirby)
Orson Pig, Booker, Bo Sheep, Wade Duck, or Garfield (Garfield and Friends)
Spongebob Squarepants (Spongebob Squarepants)
Buster Bunny (Tiny Toon Adventures)
Mike Wazowski (Monsters, Inc.)
Big Bird (Sesame Street)
Kermit the Frog, Fozzie Bear or Scooter (The Muppet Show
Mega Man (Mega Man)
Fix-It Felix Jr. (Wreck-It Ralph)
Phineas Flynn or Ferb Fletcher (Phineas and Ferb) 
Timmy Turner, Chester, Cosmo, or Baby Poof (The Fairly OddParents)
Goku or Krillin (Dragon Ball Z)
Mordecai (Regular Show)
Owen or Cody (Total Drama) 
Arthur Read or Buster Baxter (Arthur) 
Pauly Falzoni, Rocky the Lebanese Rambo, Sleek the Elite, Davo Dinkum, Habib or Bobo Gigliotti (Fat Pizza)
Michelangelo (Teenage Mutant Ninja Turtles)
Charlie or Prof. Emelius Browne (Bedknobs & Broomsticks)
Skarloey (Skarloey Railway)
Culdee (Culdee Fell Railway)
Stump Smash or Spyro (Skylanders)
Marty (Madagascar)
Wags The Dog Or Simon (The Wiggles)
Mr. Conductor Junior (Thomas and the Magic Railroad)
Balloon Boy, Fredbear or Freddy Fazbear (Five Nights at Freddy's)
Parodies
Gallery
Ad blocker interference detected!
Wikia is a free-to-use site that makes money from advertising. We have a modified experience for viewers using ad blockers

Wikia is not accessible if you've made further modifications. Remove the custom ad blocker rule(s) and the page will load as expected.